Amanda Christian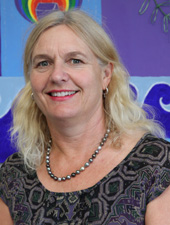 Amanda is a New Zealand trained Registered Educational Psychologist and a member of the NZ Psychological Society.
Amanda started her career as a trained social worker with experience in working with children, young people and their families in a Child Protection setting. She then worked as a School Counsellor/Educational Psychologist for 8 years in a school setting. She was counsellor to children, adolescents and their parents aged from kindergarten to Y13 students. This gave her the experience of how the many variables operating in the school setting impact on your child or young person's well being and the challenges of your child/young person negotiating their own way through that!! She worked with both the student and staff in the environment to help address a range of student needs; behavioural, learning, social and emotional.
Amanda joined the Pro-ed team in 2008. She is available both for counselling and cognitive assessments. Areas of counselling include: friendship and bullying issues, social skills, low moods, anxiety and worries, grief and trauma. She is married and an experienced parent of three children.